Our sustainability framework
1. The framework is centred on our purpose: To serve life scientists to achieve their missions faster
2. Three strategic pillars support the achievement of this purpose, namely:
a. Sustaining and extending antibody and digital leadership
b. Driving expansion into complementary market adjacencies
c. Building organisational scalability and sustaining value creation
3. Our pursuit of sustainable value creation is embodied in and reported in the areas of  products, people, partners and planet, which are in turn aligned with specific SDGs. In reality, these areas are interdependent and not mutually exclusive, but they provide a valuable base to articulate, measure, manage and report our commitments, targets, KPIs and performance.
Explore our priority areas
Find out more about them by using the diagram below and tabs on the right.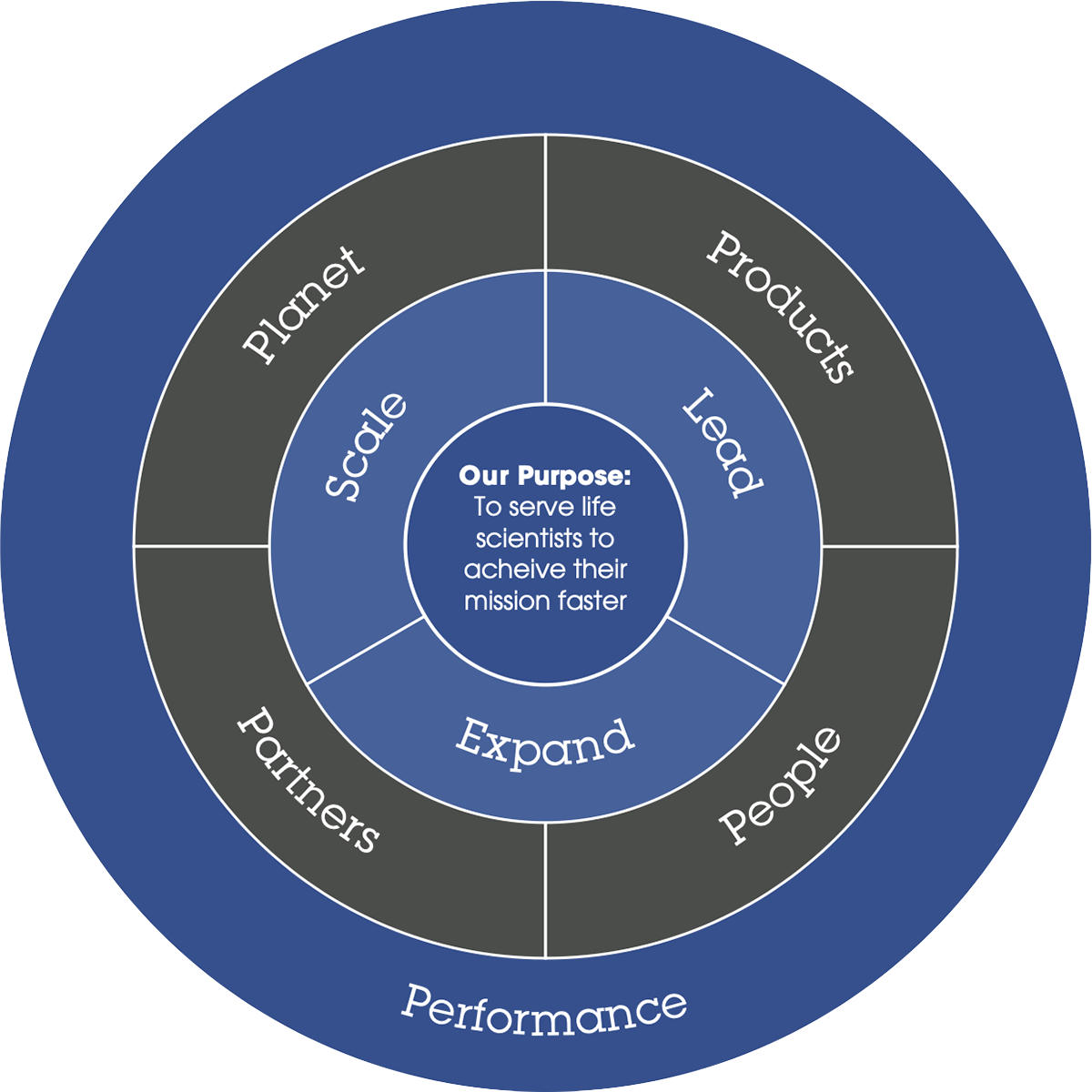 For more information on other areas of our business:
Products
STAKEHOLDER ALIGNMENT: Customers, society
Our Commitments
1. Ensure product quality to reduce wasted R&D resources and accelerate the transition of early-stage research to impact society.
Why
Meeting the needs and requirements of the scientific community we serve is fundamental to our success, especially in terms of consistency and quality.
KPIs
Product satisfaction rate.
Sites that are ISO-certified.
2. Extend our antibody leadership and support scientific breakthroughs through the ongoing curation and expansion of our product portfolio.
Why
Our commitment to continued innovation enables us to better serve our customers and their ability to accelerate  biological breakthroughs.
KPIs
New products launched.
Antibodies validated for use on third-party platforms or for diagnostic use.
Antibodies with confirmed specificity by in-house KO validation.
In-house product revenue growth.
3. Provide exceptional product support.
Why
Being responsive to and meeting and pre-empting the needs and requirements of the scientific community is one of our critical strengths.
KPIs
Custom projects undertaken for partners.
Customer transactional Net Promoter Score (tNPS).
Number of queries dealt with by the support team, and percentage responded to within 24 hours.
Read more in our Impact 2021