Abcam Unveils New Plaques to Honour Team Behind Breast Cancer Gene Discovery
Members of the team that identified the BRCA2 gene came to unveil the plaque at the Institute of Cancer Research's Chelsea site
Cambridge, UK, 25 January 2023 – Ahead of World Cancer Day – Saturday 4th February – the team of 41 scientists behind the landmark discovery of the BRCA2 breast cancer gene have been celebrated through the installation of two commemorative plaques, unveiled today in London.
The plaques, installed by global life science company abcam, have been placed at The Institute of Cancer Research (ICR), London, on the two sites of discovery, in Chelsea and Sutton, to pay homage to the incredible team involved in making this huge scientific breakthrough.
This statement of recognition comes as research commissioned by abcam finds that 61% of UK adults surveyed thought that all scientific breakthroughs happened as a result of one or two geniuses – when in fact, it more often than not takes a large team of exceptional individuals to collectively reach such a milestone.
Encouragingly, 74% of respondents agreed that more should be done to celebrate teams behind these breakthroughs and, in light of this, it's hoped that these commemorative plaques will do just that, with passers-by able to scan a QR code located next to each plaque to donate to fund vital cancer research at The Institute of Cancer Research.
The same research found that a staggering 70% of UK adults don't know what the BRCA2 gene is – despite it being a discovery which transformed the field of cancer research, leading to genetic testing in breast, ovarian and prostate cancer and saving thousands of lives as a result.
Alan Hirzel, CEO of abcam, comments: "In British culture, there's one visual marker that has celebrated the exceptional work of individuals and their contributions to wider society: the blue plaque. But we all know that often, scientific progress is an iterative process that happens when we work together, so we wanted to create these striking new plaques to really champion the success of the collective. "The BRCA2 gene discovery has paved the way for a huge amount of progress within the field of cancer research, and we hope that this spurs on a movement where teams of scientists are widely recognised and celebrated for their contribution to both science and society as a whole."
Professor Sir Mike Stratton is today Director of the Wellcome Sanger Institute and was the lead researcher in the BRCA2 discovery team at The Institute of Cancer Research, London. He said: "The discovery would not have been possible without the extraordinary commitment and endless support of the families with high rates of breast cancer who participated in the project. Back in 1995, we sequenced the DNA of people with and without cancer from many such families and so identified the mutations which led us to discover BRCA2. As our team is today honoured with this fantastic plaque, we must too honour and acknowledge the families with breast cancer who played such a critical role in scientific history."
Professor Andrew Tutt, Professor of Breast Oncology at The Institute of Cancer Research, London, said: "We're delighted to have the scientists who achieved such a remarkable discovery here in 1995 honoured in this way. The discovery of BRCA2 was an incredibly important moment, and its impact continue to be felt decades later. In the shorter term, it allowed families with a history of breast cancer to receive genetic testing and be assessed for future risk. But it also spurred decades of research at the ICR into identifying cancer's weaknesses which culminated in the development of PARP inhibitors – cutting-edge, targeted drugs for patients with cancers caused by faults in this gene. In recognition of the achievements of this incredible team, we hope that many passers-by will donate using the QR code to help scientists at the ICR continue to make more discoveries like this that defeat cancer."
To find out more about the BRCA2 breast cancer gene discovery and see where the plaques are located, visit go.myabcam.com/setinstone.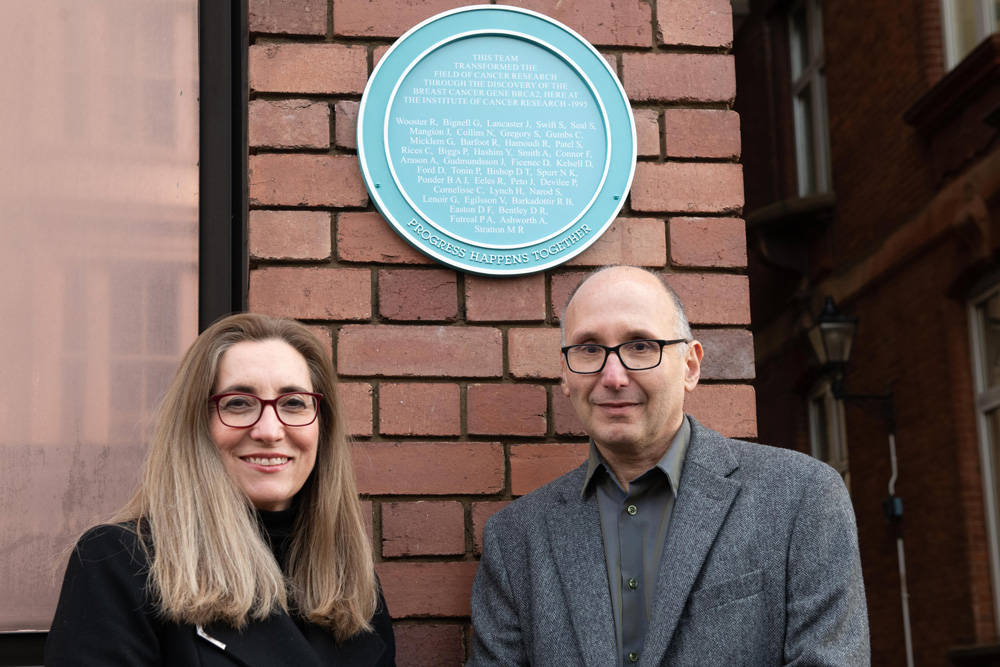 abcam's Alejandra Solache, Senior Vice President R&D, together with Professor Sir Mike Stratton
Notes to Editors
Survey of 2,061 UK adults conducted by Censuswide between 30.09.22-3.10.22.
About abcam
At abcam, we believe that the scientific community goes further, faster, when we go there together. And to keep on making ground-breaking discoveries, we need to work together in new ways. That's why we're constantly innovating to help scientists drive their research forward by providing products and solutions that play an essential role in fundamental research, drug discovery, diagnostic and therapeutic applications.
We started with a simple mission: to provide the best biological reagents to life scientists worldwide. Today, we help 750,000 researchers in over 130 countries deliver faster breakthroughs in areas like cancer, neurological disorders, infectious diseases, and metabolic disorders.
To find out more, visit us at www.abcam.com and corporate.abcam.com.
About the Institute of Cancer Research
The Institute of Cancer Research, London, is one of the world's most influential cancer research organisations. Scientists and clinicians at The Institute of Cancer Research (ICR) are working every day to make a real impact on cancer patients' lives. Through its unique partnership with The Royal Marsden NHS Foundation Trust and 'bench-to-bedside' approach, the ICR is able to create and deliver results in a way that other institutions cannot. Together the two organisations are rated in the top four centres for cancer research and treatment globally.
The ICR has an outstanding record of achievement dating back more than 100 years. It provided the first convincing evidence that DNA damage is the basic cause of cancer, laying the foundation for the now universally accepted idea that cancer is a genetic disease. Today it is a world leader at identifying cancer-related genes and discovering new targeted drugs for personalised cancer treatment.
The ICR is a charity and relies on support from partner organisations, funders and the general public. A member institution of the University of London, it is one of the UK's leading higher education institutions, placing first for biological sciences and second overall in the definitive 'REF2021' rankings of UK university research quality, impact and environment, and provides postgraduate higher education of international distinction.
The ICR's mission is to make the discoveries that defeat cancer.
For more information visit ICR.ac.uk
For media inquiries, please contact:
Alex Bannister
external.comms@abcam.com
https://corporate.abcam.com/wp-content/uploads/2023/01/Blue-plaques-thumbnail.jpg
350
500
connective
https://corporate.abcam.com/wp-content/uploads/2022/12/Abcam_Logo-Lockup_primary2.svg
connective
2023-01-25 09:00:24
2023-02-06 11:43:24
Abcam Unveils New Plaques to Honour Team Behind Breast Cancer Gene Discovery